I'm finally back after so long with a product review: the Murad Energizing Pomegranate Cleanser.
Usually I'm more of a drugstore skincare kind of girl. Having tried most brands I decided it was finally time to invest in a decent facial wash.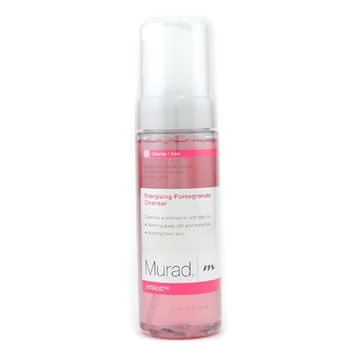 Drugstore gel washes have always left my skin tight, dull and dry (and yes - I've tried every brand from St. Ives and Neutrogena to Clean & Clear and L'oreal). Cream cleansers leave my skin feeling a bit icky like there is a film or product left behind.
So usually I end up washing my face less so as not to strip my skin of essential moisture and oils.
My skin type:
I'm in my mid twenties and used to suffer from acne as a teen. Luckily, now I only suffer from the occasional breakout and oily/combination skin. But I was definitely longing for that "glowy" and healthy skin look- sans make-up.
Enter the
Murad Energizing Pomegranate Cleanser
, and helloooooo: you cleanse and tone in one step.
-->
Product info: ($26 for 5.1 fl Oz)
This dual-action foam cleanses and exfoliates with AHAs to leave skin clear, soft and smooth, while Energizing Pomegranate Complex™ infuses skin with a healthy glow.
Additional features and ingredients:
•Witch Hazel removes excess oil without stripping skin of its natural moisture (good bye harsh acne fighters!)
•Tones and tightens pores
The verdict:
As soon as I tried this face wash I noticed the difference compared to all other gel and cream cleansers I've used in the past. One pump is enough to leave your skin feeling soft and cleansed. But bear in mind, just like all other cleansers, this won't be enough to remove foundations and make-up, so I use my Pond's make-up remover before. However this cleanser does work great on removing natural oils, dirt and any other breakout causing skin impurities. It feels so light you could easily use this in the morning and at night.
The smell is also pleasantly fresh and fruity!
Is the higher price justified?
Absolutely! I can honestly say I'm sold on Murad products. Even though I'm a budget beauty lover and rarely venture outside the drugstore, I feel like it's ok to spend a bit more if I can notice a difference.
You could aksi rationalize the price by the fact that you only need one pump of this product to wash your entire face and it will last you a few months. The bottle is quite large and and you won't need a separate toner-this really came in handy when I took this on vacation with me. Just fabulous!
What's your favorite facial cleanser and have you tried this one?
-->