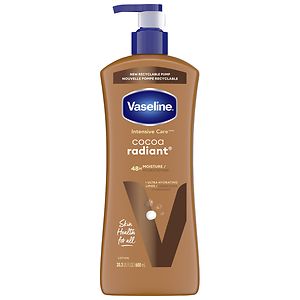 Believe it or not my boyfriend recommended this product to me. And I'm glad I took his advice.
What the product claims:
When our skin is healthy, light reflects off the rich color below the
surface, enabling it to literally glow. But when skin is dry, its surface
becomes uneven and rough, leaving it looking dull.
Cocoa Butter Deep Conditioning Lotion penetrates deeply to smooth away roughness and the appearance of dark spots, so your skin can glow from within.

Key IngredientsRich cocoa butter - helps to even skin tone
Conditioning moisturizers - leave skin smooth and supple
My experience:
Firstly, it smells amazing. You can even use it before perfume and it brings out the fragrance. (Note: it will make it smell different of course). I used it with my Cool Water Summer Limited Edition perfume, which smells sweet and fruity. Also, this lotion doesn't smell like the Palmer's Cocao Butter creams - This one has a Vanilla+Cocao scent.
Secondly, it's so cheap! It's nice to see not ALL companies have highered their prices and for $4 I'd say it's very reasonable for such a big bottle.
I'm pretty happy with this product, and it smells MUCH better then the last
Vaseline Intensive (with Alpha Hydroxy and Vitamin A) lotion
I tried, so I'm thinking of getting the
other products from this line
- which include the Body butter, Extra care cream and Gel body oil.